A wedding dress is one of the most important parts of your wedding day, so it is wise to
be prepared for your fitting appointment. One of the first tips for your
fitting appointment is to start early. Fitting wedding dresses takes time and
especially if the dress needs to be altered to fit your body perfectly. That is
why we advise to start nine months to one year before your wedding date. Below
you can find a couple of frequently asked questions about the fitting
appointment. For more questions, you can always contact our customer service.
What shoes should I bring to my wedding dress fitting appointment?
You don't have to bring any shoes to the appointment. A lot of the bridal stores also sell shoes, so you can try out multiple styles with different types of dresses. This way you can get a better and more complete idea of what you would like. Of course, it is good to have a general idea of what kind of shoe you would like to wear, but we dare you to try out different styles. Only this way you can know for sure what your dream shoe is.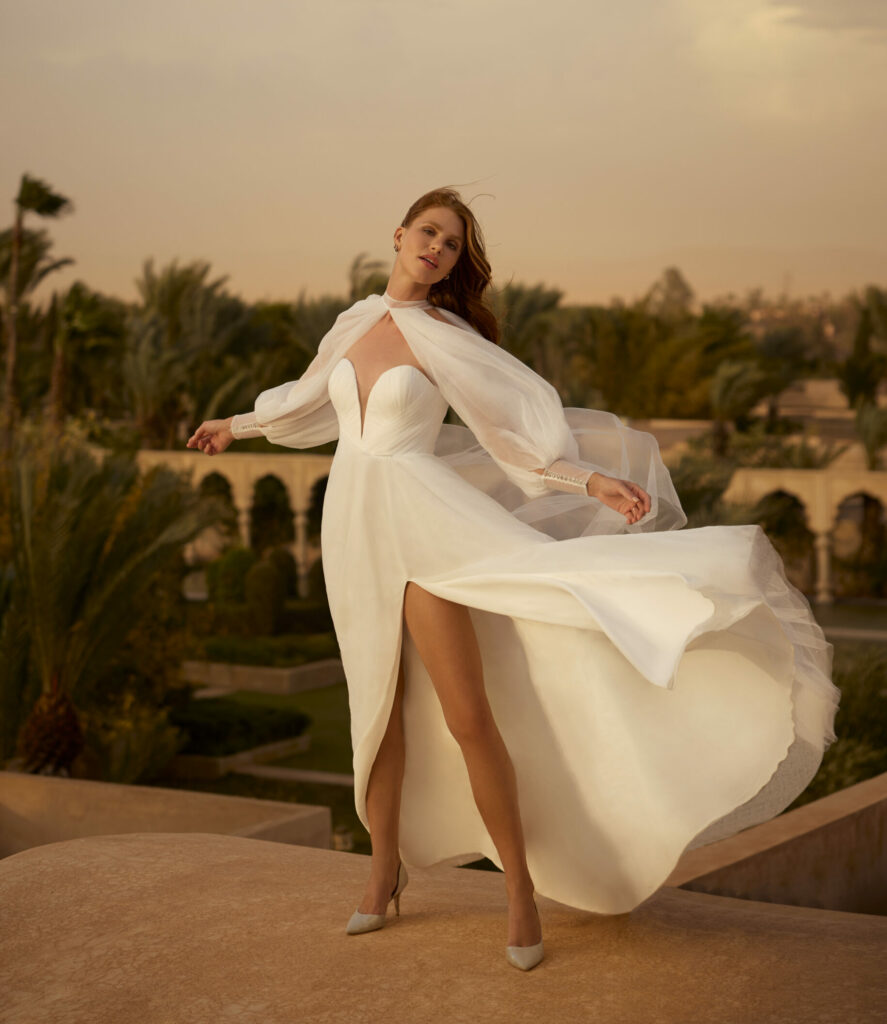 Who should I bring to the fitting appointment?
The people that you bring to the wedding dress fitting appointment is a difficult choice. You want to bring as much people, but we advise to keep the group small. The people that you bring need to be people that are positive, honest and you need to value their opinion. It is important that you don't bring too many people to the appointment, because everyone has their own opinion. When too many people give their opinion, it is easy to start doubting your choice and that can alter the experience.
What should I do with the budget when fitting wedding dresses?
It is important to set a budget for yourself, before trying on dresses. This way you can avoid the disappointment of trying on a beautiful dress that is way out of your budget. It is also smart to add a little bit of playroom to your budget, so that if you find your dream dress that is just out of the budget, you can still get it. Keep in mind that the dress almost always needs to be altered to fit you perfectly.
Should I have specific underwear, and should I wear makeup?
Before going to the fitting appointment, it is important to decide what kind of underwear you want under your dream dress. We advise you to always use strapless bras, so that you cannot see anything while fitting wedding dresses. Make sure to wear the kind of underwear that you are planning on wearing to your wedding. This way you can recreate the bridal look for your special day the best. Try to keep your makeup minimal. This way the chances of marking up a wedding dress are as low as possible. It is good to wear some makeup as a confidence booster, but the best way is to keep it natural. Your hair is important for your bridal look, so wear it as close as possible for the style you want on your special day!